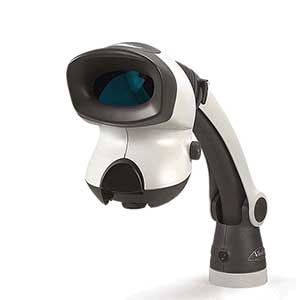 Mantis Compact Ergonomic Inspection Microscope
Since its introduction, Vision Engineering's Mantis has become the accepted standard for ergonomics and high performance magnification.
Mantis offers users 3D imaging with unrivalled clarity and comfort – without microscope eyepieces. Businesses choose Mantis because they know their operators are more efficient, more accurate and more productive. So the operator benefits and so does the business.
"Wow!" The most common reaction when looking into a Mantis for the first time…
Mantis Compact brings users many benefits for a wide range of inspection, manipulation or rework tasks.
An ergonomic body position makes Mantis more comfortable, less fatiguing and, more importantly, much easier to use. Plus, since there are no microscope eyepieces, operators can sit back from Mantis, making viewing and co-ordination tasks an entirely natural experience.
3D Visual Inspection Microscope
2x – 8x fixed magnification
Patented stereo optics provide amazing 3D imaging
First-class performance with long working distance
Highlights
2x, 4x, 6x and 8x quick change magnification options
Superior ergonomics for fatigue-free viewing and increased quality / productivity
Superb hand-eye co-ordination for inspection and manipulation tasks
Long working distance and large field of view
True colour, LED illumination providing up to 10,000 hours of shadow-free viewing
Choice of stands to suit numerous applications
Fatigue-Free Stereo Viewing
Patented optical technology not only provides superb 3D imaging, but also allows operators freedom of head movement.
Superior ergonomics leads to greater productivity, increased throughput, improved quality control as well as minimal fatigue. Users are also able to wear glasses, if required.
Mantis Compact is ideal for a wide range of tasks requiring 3D imaging with superb hand-to-eye co-ordination, including electronics inspection, dental re-work, dissection and preparation tasks, plus many other precision magnification tasks.